HOW TO CHOOSE THE BEST BUSINESS HOTEL IN HO CHI MINH CITY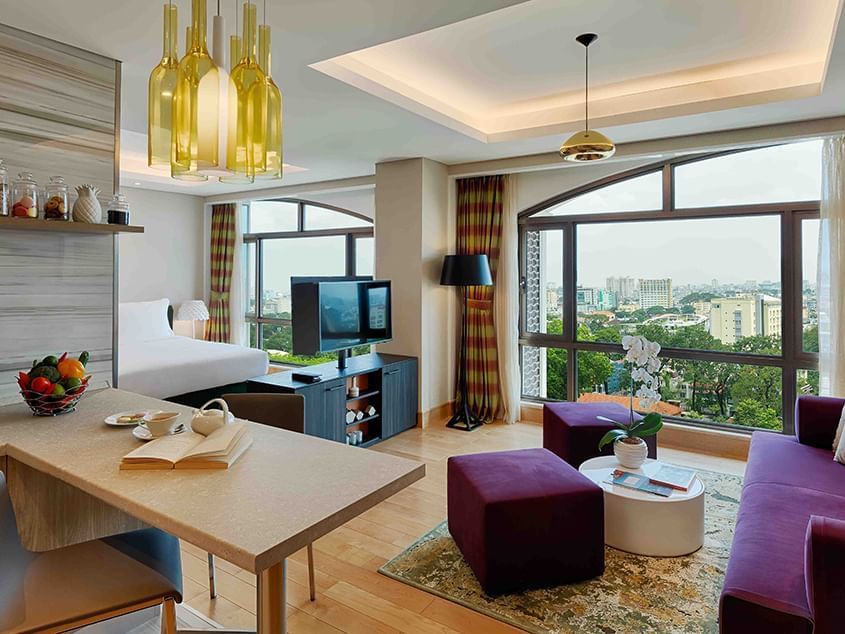 When choosing a business hotel in Ho Chi Minh City for your next trip, there is plenty to consider. Finding a space to work, meet and relax is easy if you find an accommodation with everything you need at your fingertips. Here are the top five things business travellers should look for in a business hotel.
1. Business services
Everything you need to work needs to be at hand when travelling away from the office. Your room should also have a dedicated space to work. Great business hotels will have an in-room phone, wired and wireless internet, and a desk.
A good business hotel ensures all the essentials are available, from high-speed internet and in-room phones. There should also be a business centre with services and equipment you need for catching up on emails, printing documents, mailing parcels, and completing other essential tasks.
2. Location
Avoiding stress is key to a successful business trip. Spending hours travelling to and from your hotel is not the best use of your time. To maximize your time, choose a hotel with a central location close to where business is done.
A great location is one that is close to everything you need for a successful business trip. That includes being close to restaurants for informal meetings over drinks or a meal. It also helps to be near shops to grab anything you need on your trip, particularly if you forgot something you need to work like tech or supplies.
3. Meeting rooms
When looking for a good business hotel, on-site meeting spaces are key. Depending on the nature of your trip, you might need to bring together colleagues and stakeholders to network, brainstorm, or work. These spaces let you organize business meetings and other events.
You should look for hotel services that help support meetings, including catering and audiovisual support. This saves you time looking for space and services to support your meeting or event needs. The best hotels offer seamless planning for any gathering or event you need to organize.
4. Hotel facilities
Personal touches make a big difference when travelling for work. A great business hotel in Ho Chi Minh City will have diverse on-site amenities, including places to eat and relax. Look for a hotel with multiple dining options, laundry facilities, and recreational facilities.
Being away from home does not mean you need to sacrifice your routine. You should be able to find time for things you love to do, like relax or stay fit. The ideal business hotel offers guests a well-equipped fitness centre and swimming pool. There should also be entertainment facilities.
5. Complimentary shuttle service
A great business hotel does its best to help business travellers. Shuttles are convenient for pick-ups and drop-offs at the airport as well as for attending business meetings or events. You will be able to make your appointments on time and with less stress.
A shuttle service helps guests make the most of their time, whether they are travelling to shop or attend a business meeting. This helps you avoid the hassle of renting a car or wandering around unfamiliar roads. You also do not have to worry about finding parking spaces.
The right business hotel in Ho Chi Minh City
Knowing how to choose the right business hotel removes a lot of stress when travelling on business. Sherwood Suites Saigon features stunning rooms with kitchen and laundry facilities plus a dedicated workspace. Rooms feature wired and wireless internet, plus there is an on-site business centre with service assistance. The hotel features a restaurant & bar, in-room dining service, a 24-hour fitness centre, pool with Jacuzzi and saunas to relax.
Sherwood Suites Saigon is within walking distance of Ho Chi Minh City's business centre. If you prefer, there is a shuttle service to whisk you to the city centre attractions. Sherwood Suites is also close to shopping centres and major attractions, including Notre Dame Cathedral and the War Remnants Museum. The city's best restaurants and entertainment are also nearby.