THE IDEAL LUXURY SERVICED APARTMENTS IN HO CHI MINH CITY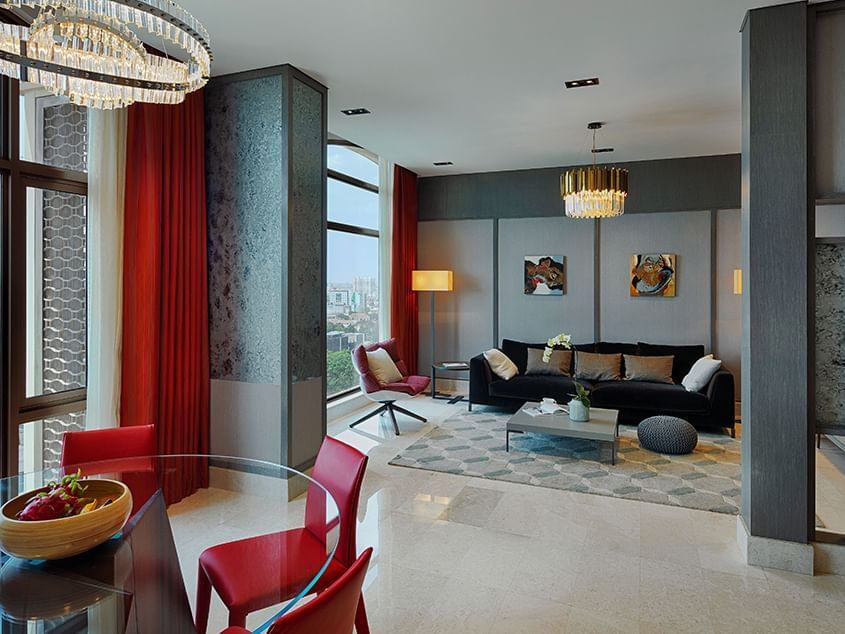 Welcome to Sherwood Suites Saigon, the ideal serviced apartment in Ho Chi Minh City – a place where you can live your life the way you want it. Sherwood Suites Saigon is synonymous with luxurious living in one of the most desired neighborhoods of Ho Chi Minh City.
Sherwood Suites Saigon serviced apartments are located in the heart of District 3, a central area overflowing with historical and cultural charm. The apartments boast an exceptional location, just a few blocks away from top tourist attractions like the War Remnants Museum, the Independence Palace, and the Notre Dame Cathedral.
The luxurious property is conveniently located near daily lifestyle destinations including restaurants, coffee shops, coworking spaces, cinemas, and shopping centres. In addition, Sherwood Suites is within close proximity to District 1, Ho Chi Minh's city centre, and only 6 kilometers away from Tan Son Nhat international airport.
Featuring the latest in contemporary design and décor, each serviced apartment has been conceived to offer the highest standards of privacy, comfort, and convenience. Every apartment comes with fine Italian designer furniture. Accommodations have anti-allergen wooden floors and rain showers. For your convenience, the apartment is also equipped with kitchen facilities, safety deposit box, high-speed Internet, flat-screen TV, and individually controlled air conditioning.
Apartments are equipped with everything you may possibly need for a memorable stay in this exciting Vietnamese city. These luxury residences are located in a complex that offers excellent amenities, including an on-site restaurant that's open from early morning to 10 pm and serves up the finest Mediterranean and Asian cuisine, including Vietnamese classics, prepared by the chefs in the open kitchen.
After a busy day working or exploring the city, head straight to the outdoor swimming pool or unwind at the Jacuzzi. Other wellness facilities include a steam bath and a fully equipped fitness centre. Dedicated kids' play areas make these luxury residences a great option for families with children.
These spacious luxury apartments range in size from 76 square meters to 118 square meters, and can accommodate all visitor types, from solo travelers to groups of up to 5 persons with a variety of studios to choose from including one- and two-bedroom apartments.